Secure Short & Long Term Storage
Early until late opening hours
Drop off in-store, pay when you collect
Cash & all major credit cards accepted
Wrapping & Shipping services also available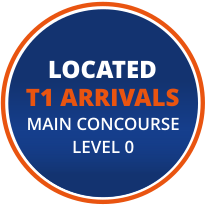 Left Luggage Prices

Per Item

Up to

4

hours

€

9.

00

Up to

24

hours

€

15.

00

Up to

48

hours

€

22.

00

Up to

72

hours

€

28.

00

After

72

hours*

€

6.

00

per day
How our Pricing works
We have simple pricing for up to 4 hours, up to 24 hours, up to 48 hours & up to 72 hours.
Each storage period in excess of 72 hours is charged at the per day rate.
*The per day cost is added to the cost already incurred of €28.00.
All prices shown are per item and are charged per time period (whether lesser or part of)
Benefits of your Left Luggage Service
Easy and Convenient
No booking required, just drop off on the day
You pay for your storage on collection
Cash and all major credit cards accepted

Long and Short Term storage available
24 hour day and night CCTV monitoring
Have full confidence your items are safe and secure
Our manned facility is open 0500 - 2100 daily
Why Use Left Luggage
Whether you are exploring Ireland, travelling into Dublin city for a meeting or at the airport for a few hours; you don't have to struggle with your heavy luggage or bags. Store them with us for as long as you like. We operate a manned storage facility and all items stored are security screened.
Our Location Details
Left Luggage & Shipping, Terminal 1
Excess Baggage Company
Left Luggage T1 Arrivals,
Level 0 Main Concourse
Dublin Airport
Co. Dublin,
Ireland
Opening Hours
05:00 - 21:00
7 days a week
Phone number
+353 87 216 3202
Bag Wrap & Travel Goods, Terminal 2
Excess Baggage Company
Left Luggage T2 Departures,
Level 1 Main concourse
Dublin Airport
Co. Dublin,
Ireland
Opening Hours
05:00 - 20:00
7 days a week
Phone number
+353 86 142 6993
Lost Property, Concierge & Bag Wrap, Car Park Atrium
Excess Baggage Company
Car Park Atrium,
Main Concourse Ground Floor
Dublin Airport
Co. Dublin,
Ireland
Opening Hours
09:00 - 18:00
Mon-Sat
Phone number
+353 01 437 2311
Our other services you might be interested in…
We provide a range of service from our left luggage locations to travelling experience. Send your baggage worldwide, have it securely wrapped or even purchase new luggage. Click below to learn more
More